Description
Product Information
Dimensions: H185 x W60 x D65 cm
Fridge net capacity: 184 L
Freezer net capacity: 93 L
The Bosch KGN34VW20G brings you brilliant value for money wrapped up in a classic white design, offering 184 litres of refrigerator storage and 93 litres of freezer space. Making this an ideal investment for smaller families or couples.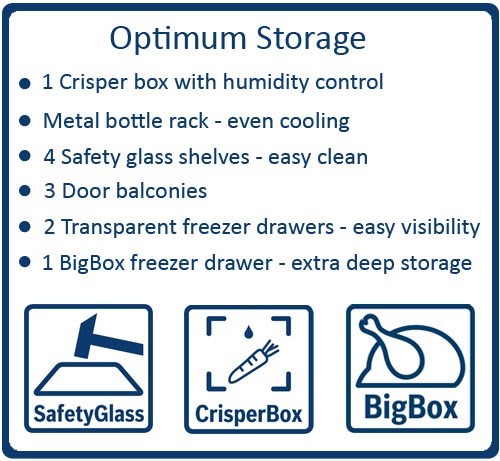 The interior of the this fridge freezer has some great storage solutions to optimise your storage space, there's a perfect place for all your shopping.
The fridge holds four clear, safety glass shelves, one of these can be adjusted. These shelves make it easy for you to locate all your products and are super easy to wipe clean. The fridge door houses three balconies of different sizes, allowing you to store bottles and jars of all sizes. At the bottom of the fridge is the crisper box, this is the perfect spot to store all your fruit and veg as this box has humidity control, keeping your fresh items fresher and tastier for longer.
The freezer section holds three transparent doors, excellent for keeping an eye on your food levels and knowing exactly when it's time to make another trip to the supermarket. The middle drawer is a 'BigBox' this offers deeper storage for all those heftier products such as pizza boxes and bags of chips.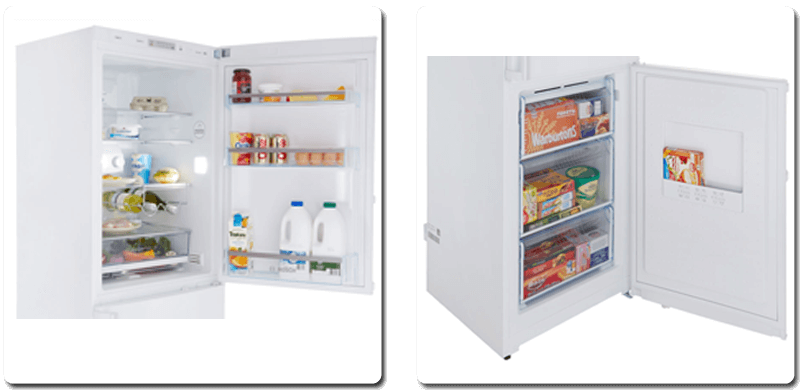 The Bosch KGN34VW20G is packed full of technical features all working together to keep your fridge freezer running at its best and at an improved performance level.
With a Multi Air Flow system all levels of the fridge are supplied with a constant circulation of air, giving longer freshness. Alongside this you have FreshSense technology which monitors the temperature of your fridge freezer and maintains an optimum and consistent temperature for your foods, achieving more freshness and flavour.
Thanks to NoFrost technology you will never again need to waste time and effort on defrosting your freezer. Humidity in the air is collected rather than left to build up in your appliance, resulting in almost no ice formation.
With an Anti Bacterial Filter and an Air Fresh Filter you can maintain a clean, hygienic and safe environment to store your food. The Anti Bacterial Filter works to reduce bacteria and build up whilst the Air Fresh Filter reduces any smelly odours which may be caused by out of date food or accidental spillages and leaks. The fridge freezer doors feature removable, magnetic door seals making it easy to clean every inch of your appliance.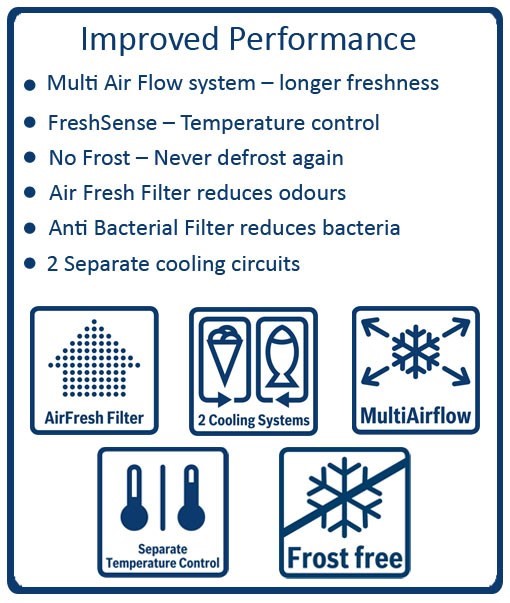 The Bosch KGN34VW20G has two separate cooling circuits which allow independent temperature control, preventing the transference of humidity between the fridge and freezer cavity. Benefiting your food as the correct temperatures are maintained throughout the appliance with no disturbances.
Features:
Fridge net capacity: 184L
Freezer net capacity: 93L
Multi Air Flow system – longer freshness
No Frost – Never defrost again
Reversible door
Removable, easy to clean magnetic door seals
LED controls
4 Star freezer rating
A+ Energy efficiency
Annual energy consumption: 293 kwh
Noise level: 42dB
Height adjustable front feet
Max freezer storage time during power failure: 14hrs.
Payment & Security
Your payment information is processed securely. We do not store credit card details nor have access to your credit card information.