Description
Product Information
All about me
Quiet, spacious and packed full of useful features to help you wash more efficiently, saving you energy and water, the Bosch WAT28370GB is the washing machine every household needs. With a large 9kg capacity, this is ideal for medium to large households, helping you to get the laundry done in less time. A 1400rpm spin speed reduces your drying time.
Worry less about rising costs by keeping your water and energy usage down. VarioPerfect™ technology takes 65% less time to do the laundry, or uses 50% less energy, reducing costs immediately while ActiveWater Plus manages the amount of water used required effectively. Working together to achieved an A+++ energy rating, this washing machine is 30% more efficient than an A rated model.
Featuring an EcoSilence Drive™, this machine is both quiet and durable, helping to keep peace and quiet in the home. An Allergy+/ECARF Quality Seal is perfect for anyone who suffers from allergies.
For a more convenient wash, you can delay the start time by up to 24 hours, helping you to get the laundry done at a time to suit you.
Features we love
✔ Money-saving features reduce the amount of energy and water used
✔ AntiVibration sidewall and EcoSilence Drive™ technology keeps the noise down
✔ Huge 9kg capacity lets you wash up to 45 adult t-shirts at once
✔ Wash at a time that suits you with the 24-hour delay timer
✔ End of cycle buzzer lets you know when the laundry is done
✔ 15 and 30 minute quick washes are ideal in a rush
Need to know
Capacity: 9kg (45 t-shirts)
Number of programmes: 16
Energy rating: A+++
Spin performance class: B
Wash rating: A
Max. spin speed: 1400rpm
Max. noise level: 75dB
Annual energy consumption: 152kWh
Annual water consumption: 11220L
Installation information
Water supply: Cold
Plug position: Right
Water supply inlet: Left
Waste pipe position: Right
Dimensions: H 848 x W 598 x D 590mm
Weight: 70kg
Key features
9kg Loading Capacity ideal for medium to large sized households
1400rpm Spin Speed
16 programmes
A+++ energy efficiency rating, saving 30% more than A class
Noise Level: 75dB
15 and 30 minute quick washes
Dimensions: 848mm(H) x 598mm(W) x 590mm(D)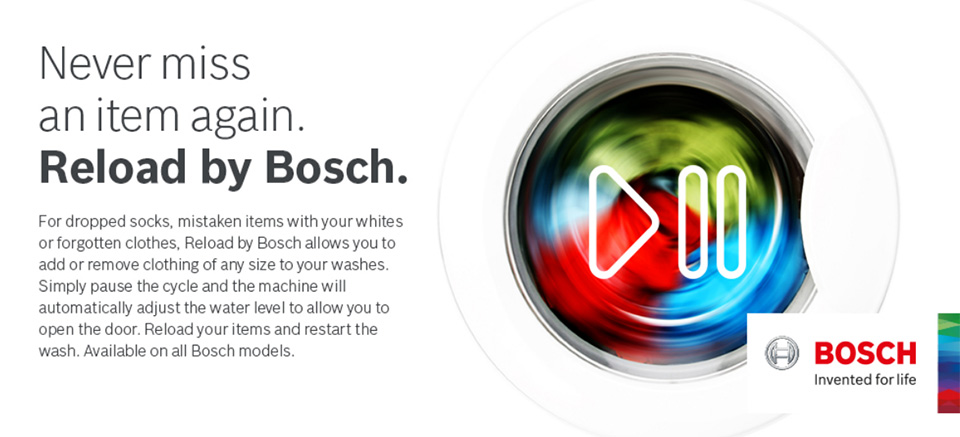 Customer Reviews
Verified reviews of Bosch WAT28370GB
38 reviews
Payment & Security
Your payment information is processed securely. We do not store credit card details nor have access to your credit card information.